Why do you need Bible Study For Women?  Do you sometimes wish you can have a refreshing time with God all by yourself? Isn't it hard at times to walk by the Spirit? Aren't you sometimes consumed by your emotions?
Well, you are not alone! Many women face the same challenges you face. And that why using a nice Bible study for women helps a great deal. Sometimes the struggle is towards understandi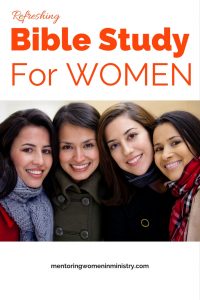 ng what the Word is saying, other times it's knowing where to begin studying from.
If you are struggling to have a consistent Bible study for your personal spiritual growth or women's group, look no further. You are right on schedule! Bible studies for women is a way to help women allow God's work to fill their hearts, helping them reach spiritual maturity.
Examples of  Bible Study For Women
Some of the Bible studies that help women's ministries, small groups and most especially individuals experience the transforming power of Christ through the Word of God, include:
Believing God by Beth Moore
This is a full year Bible study for women. It provides a weekly personal study experience for you. Viewers guides for the group video teaching sessions are available as well. This women's study guide based on Isaiah 43:10, explores God's intention for Christian lives and how the life of a believer should look. Using this guide, Beth encourages women not to remain paralysed with unbelief but to build their faith in God daily. Get it here.
True Woman 101: Divine Design by Nancy Leigh DeMoss and Mary Kassian
This is an 8-week topical Bible study that lays a solid biblical foundation on what it means to be a Godly woman. It teaches God's purpose for creating the woman. The study guide reminds us that the world does not define us neither should we try to define ourselves. Each week includes a daily power-packed lesson which can be discussed during group meetings for the purpose of digging deep. You get to discover who you are in Christ and be the True Woman he created you to be. Get it here
Redeemed by Angela Thomas-Pharr:
This 7-session Bible studies for women is a guide for any woman who has chosen to live the life of the redeemed. This guide teaches you to allow the Word of God renew your mind and transform your life. In this guide, Angela Thomas-Pharr explores the practical side of redemption, leaning upon Jesus for everything we need. To dig deep, you can study alongside other women. This will help you and the other women grow through study time together and prayer. Get it here
Esther: It's Tough Being a Woman by Beth Moore:
For those who have felt inadequate, threatened, or forced into situations that seemed overwhelming, this is the Bible study for you. Beth Moore engages in a very personal examination of the old testament Queen Esther. She shows us a woman who did not let her emotions control the destiny of her people. Rather, Esther sought and trusted God for deliverance. This guide peels back the layers of history and shows how very related and applicable the story of Esther is to our lives today. There are video sessions, downloadable to your PC which will help in your study. Get it here
Ruth: Loss, Love, and Legacy by Kelly Minter:
A lot of women have dealt with loss in one way or another. If you've ever felt devastated, struggled as a stranger, or longed to be loved, this is for you. Studying about Ruth will give you a comfort and a way out of your misery. What better way is there to make the study exciting than using this study guide by Kelly Minter? This 6-week women's bible study is the second study in the Living Room Series. It tells about Ruth's journey of unbearable loss, redeeming love, and divine legacy. This study includes stories, recipes, a leader guide, interactive Website extras, and free bonus videos. Get it here
Having a Mary Heart in a Martha World by Joanna Weaver
:
Being a woman can be overwhelming sometimes. Trying to balance your spiritual life, physical obligations to family whilst struggling with your emotions and chores as well can be tasking. This personal study is for women who struggle with this. The life of a woman today isn't really all that different from that of Mary and Martha in the New Testament. Like Mary, you long to sit at the Lord's feet but the daily demands of a busy world prevent you from doing that. Like Martha, you love Jesus and really want to serve Him yet you struggle with feelings of inadequacy. This bible study is for you. Get it here
Invisible War: What Every Believer Needs to Know About Satan, Demons and Spiritual Warfare by Chip Ingram
:
So many Christians downplay or even ignore the existence of demons and spiritual warfare. Others believe strongly they exist. With such divergent views, how are Christians supposed to know the truth about demonic forces at work in this world? The Invisible War examines what every believer needs to know about Satan, demons, and spiritual warfare, offering a balanced look at this controversial subject. This provocative book will help Christians understand what the Bible says about these threats and will show them how they can safeguard themselves and their families through prayer. Get it here
Jonah: Navigating a Life Interrupted by Priscilla Shirer
This is a topical Bible study for women that teaches us what to do when God "interrupts" our life with the call, using Jonah as a case study. Instead of running like Jonah did, pick this study guide and have a rethink on your decision to run. Priscilla Shirer uses this 7-session Bible study to define what interruption really means, showing you that interruption is actually God's invitation to do something beyond our imagination and how much it pays to obey the call. When Jonah was finally willing to allow God to interrupt his life, the result was a revival in an entire city. You don't have to run first before reviving an entire city. Get it here
Experiencing God: Knowing and Doing the Will of God by Henry and Richard Blackaby
This personal study on Experiencing God is based on seven Scriptural realities that teach us how to develop a true relationship with the Father. By understanding how God is working through us even as we try to fathom His ways, we can begin to clearly know and do His will and discover our lives greatly and gracefully changed. It also teaches how to discern and do God's will in the midst of contradicting voices. Get it here
Breaking Free: The Journey, The Stories by Beth Moore
:
This personal Bible study for women draws parallels between the captive Israelites of the Old Testament and New Testament believers in Jesus as the Promised Messiah. Beth explains that anything that hinders us from the benefits of knowing God is bondage. She uses the scriptures to help identify spiritual strongholds in your life, no matter how small. She examines the lives of the kings who ruled during the prophet, Isaiah's ministry. Get it here
Not only will these Bible studies help you grow in your understanding of Scripture, but they will transform your relationship with God and with those around you.
Please note that on Amazon, most of this titles come in different formats, as workbooks, study books, leaders' guide for small groups… Take note to chose the format you need.
Go here for more on Women in Ministry.
God bless You