There are many amazing Female Pastors in America. They love God and many of them are bold, quiet, simple, funny, glamorous but in all, they each attract women to God in their own way.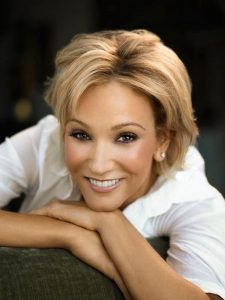 Paula White, a popular televangelist, is the senior pastor of New Destiny Christian Center, in Apopka, Florida (near Orlando), a non-denominational, multi-cultural megachurch. She was the co-pastor of Without Walls International Church in Tampa, a church she co-founded with pastor and ex-husband, Randy White. She also hosts a television show, Paula White Today.
Born on April 20, 1966 in Tupelo, Mississippi, to Myra Joanelle and Donald Paul Furr III. In 1984, while living in Maryland, she converted to Christianity at the Damascus Church of God. It was shortly after her conversion, at the age of 18, that she heard the voice of God, asking her to preach the gospel.  
Since 2012, she has been the senior pastor at New Destiny Christian Center, a megachurch in Florida that pulls in thousands of worshippers to its weekly services. She also heads up Paula White Ministries and is a TV personnel who regularly appears on TV and Radio. Paula White was named as a chair of the advisory board, which Trump convened during the 2016 presidential campaign in a bid to reach Christian voters.
In a nutshell, I'd say Paula White is a beautiful Pastor who has tried tremendously in her own way to impact her generation for Christ.
When the name Juanita Bynum is mentioned, the first thought that drops in my heart is like, "Oh hey! That's the prophetess who sang Behind the veil…" That song was one of my favorite that really helped me transition into the new life.
Juanita Bynum, a Georgia-based televangelist, prophetess and author of the books "Walking in Your Destiny," "Heart Matters," and "No More Sheets" amongst great books and songs as well, is one of America's top female pastors.  She also has a number of accomplishments in the musical industry which ranks high in the gospel music category. She is the CEO of Juanita Bynum Enterprises, a multi-faceted lifestyle and empowerment product company based in New York.The testimony of Juanita's life, an evidence that something that was once dead and condemned can be restored and brought to life again by the Holy Spirit, is not something you get to hear about everyday. She tells her story of how she was abused in her marriage, involved in lesbianism and drug use at some point in her life, inspiring other women to walk away from abusive situations and walk to Christ.
Here's a brief history on her life.
Born January 16, 1959, Juanita Bynum is an American Pentecostal televangelist, author, actress and a powerful gospel singer. She is one of five children of Elder & Mrs. Thomas Bynum. Born and raised in Chicago, Juanita Bynum attended Saints Academy High School of the Church of God in Christ in Lexington, MS and fellowshipped at St. Luke Church of God in Christ. After graduation, she started preaching in churches nearby and at revivals which made her a bit popular. She began a series titled "Lessons in Submission".
Through the 1990s, Juanita Bynum was speaking at many major conferences throughout the United States. In 1997, she released "No More Sheets", a video and audiotape series about her transformed lifestyle. After ministering in Bishop TD Jakes' "Woman, Thou art loosed" conference, Atlanta, in July 1999, she became one of the worldwide recognized female voices in the wilderness. She began appearing regularly on the Trinity Broadcasting Network. She also had daily programs on The Word Network, Daystar Network and other Christian Affiliates. The Weapons of Power conference was held annually through 2006. Also in 2006, she held the Threshing Floor Conference with over 68,000 registrants at the Georgia Dome in Atlanta.
With over 12 books written and nine musical projects amongst other things, Juanita Bynum has impacted the world for Christ.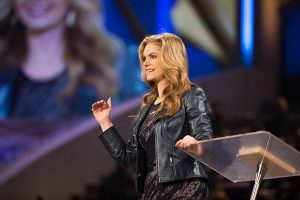 Victoria Osteen, the wife of Joel Osteen and co-pastor of the Lakewood Church in Houston, was born on March 28, 1961. She has authored several books and is the founder of Lakewood Church Women's Ministry, which started in 2003. She is the mother of 2 children, who both serve alongside her and her husband in the ministry. You can watch her programs on Daystar Television and TBN, as she teaches what it means to live a happy life amongst other great lessons. She also reaches out to the less privileged by supporting the organizations, Feed the Children, The Bridge – a shelter for battered women amongst other philanthropic acts.
The queen of Gospel Music, Shirley Caesar, was born on October 13, 1938 in Durham, North Carolina. She is not just an Gospel Artist but also a songwriter and recording artist who has bagged several Grammy Awards, Dove Awards amongst others. She married Bishop Harold I. Williams in 1983. They were co-pastors of the Mount Calvary Word of Faith Church in Raleigh, North Carolina, until his death on July 4, 2014.
She is the 10th of twelve children. At age ten, she started singing with a well known gospel group where her father was the lead singer. After he died, she began touring with Evangelist LeRoy Johnson, who had a television show in Portsmouth, Virginia. She recorded her first song "I'd Rather Have Jesus" I'm 1951, while still in high school. Shirley heard the voice of God during a college exam, asking her to spread the Gospel.Since then, she has remained faithfully, with her response to the call developing into 150 concerts per year, volunteer work for the poor, numerous awards, and over 30 record albums.
Pastor Kim Burrell is one woman who greatly inspires me through her songs and messages. Her captivating voice carries the power of the Holy Spirit that encourages the hearts of people all over the world. Born on August 26, 1972, is an American gospel singer from Houston, Texas. She is also the daughter of a pastor in the Church of God in Christ (COGIC).
Her musical career started with the Greater Emmanuel C.O.G.I.C. Choir of Houston, Texas, the church where her father pastors. Early in her career, she was featured on recordings with the Gospel Music Workshop of America Youth Choir; Trinity Temple Full Gospel Mass Choir of Dallas, Texas, along with Kirk Franklin, and The Inspirational Sounds Mass Choir of Houston, Texas. She has been also featured on B.E.T.'s Celebration of Gospel, Lift Every Voice, as well as the Bobby Jones Gospel Show. She has other great accomplishments as well but one thing that I love and admire about her is her ability to stand firmly in the truth, regardless of the cost. That's a trait you don't get to see often.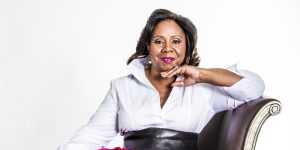 Mrs. Serita A. Jakes, wife of TD Jakes is one great woman of God with a very inspiring testimony. God was really intentional about her life, strengthening her and leading her through rough paths till she finally learned to stand in Him. Throughout her nearly 30 years of marriage, she has diligently served alongside her husband, Bishop T. D. Jakes, with purpose and precision. She has ministered greatly to women through her books, stage plays [her husband] and messages, containing great words of wisdom.
She serves as the Executive Director of The Potter's House Women's Ministries, reaching to women from all walks of life. She also oversees Rahab Int'l Ministries which helps survivors of domestic abuse; the God's Leading Ladies Life Enrichment Program for grooming women who want to lead successful personal and professional lifestyles and a Debutante Program for teenaged girls. She is also an actress who has featured in several movies.
Her book, The Princess Within, which has sold over 200,000 copies, is very inspirational, aimed at encouraging women who are victims of one form of abuse or another to break the silence, break away from the situation by the power of God and begin healing. In all, she has been a great blessing to this generation as one of the female pastors in America.
Amongst the great female pastors in America, Joyce Meyer is one who has made such great impact to this generation.
Joyce Meyer, born on June 4, 1943, is a popular televangelist, charismatic Christian speaker and author. She and her husband Dave Meyer, have four grown children, and live outside St. Louis, Missouri. Her ministry, Joyce Meyer Ministries Organization, is headquartered near the St. Louis suburb of Fenton, Missouri. Through the ministry, she impacts the lives of others, blessing them just as God has blessed her.
Joyce Meyer was briefly a member of Our Savior's Lutheran Church in St. Louis. She started leading an early-morning Bible class at a local cafeteria and became active in Life Christian Center, a charismatic church in Fenton. Within a few years, Meyer was the church's associate pastor. She also began airing a daily 15-minute radio broadcast on a St. Louis radio station. In 1985, she resigned as associate pastor and founded her own ministry, initially called "Life in the Word." She began airing her radio show on six other stations from Chicago to Kansas City. In 1993, her husband Dave suggested that they start a television ministry.[1] Initially airing on superstation WGN-TV in Chicago and Black Entertainment Television (BET), her program, now called Enjoying Everyday Life, is still on the air today.
Her testimony of the abuse she faced while growing up is of great inspiration to many women especially those who have faced the same challenges. Joyce Meyer Ministries has reached out to people in the third world countries, including those around her, sharing the love of Christ and disciplining the nations for Him.
Beth Moore, one of her greatest blessings to the body of Christ is one of the female pastors in America I know and love because of her diligent works. Born on June 16th, 1957, she is a renowned American Evangelists, author and Bible study teacher. She is married to Keith Moore with two grown daughters, Amanda and Melissa. Both daughters, along with son-in-law Curtis Jones, work with their mother at Living Proof Ministries. Beth Moore committed her life to spreading the gospel at the age of 18. She currently attends Bayou City Fellowship, Houston, Texas, where her son-in-law, Curtis Jones, is lead pastor.
She founded Living Proof Ministries, a biblical women based organization, located in Houston, Texas. This ministry aids women who desire to model their lives on godly principles. Alongside other ministries such as LifeWay Christian Resources, Beth Moore conducts more than a dozen conferences, known as "Living Proof Live", around the United States annually.She also teaches through her radio show, Living Proof with Beth Moore, and appears as a regular on the television program LIFE Today. She occasionally writes books, Bible study guides and video resources to make Bible study time with the Lord easier for you to receive.
So…
As much as there is a huge class in America that do not believe that the bible permits women to hold leadership positions in the church over men. Paul speaks to the Ephesians and states that women should learn from the husbands at home.
Today more than ever before, the list of female pastors in America keeps getting longer. In short, many women in ministry find it interesting now especially because of the easy to combine ministry with family life. Women love to express themselves and I believe God loves to pour His Spirit on many women up till today.